Aspen Furniture Company - Colorado
Aspen Furniture Co. serves the greater Denver area and Front Range region of Colorado, offering high quality furnishings and storage solutions for residential, office and warehouse use. Each manufacturer we work with is carefully screened and selected according to measures of quality in workmanship, choices within the products offered, styling and durability, as well as overall value in relation to simply brand recognition.
Let our expertise be the basis for your next remodel, office update or warehouse expansion by choosing from any of the quality items offered here and in our print catalogs. We look forward to hearing from you with any questions or to assist with placing your order.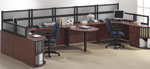 The newest styles of executive desks and office partition systems will give your office a fresh updated look and boost productivity with increased working space and improved organization features. Check out the possibilities in our updated Office section.